HOT DEAL
Carnival Splendor
18 OCTOBER 2023 | 9 nights
Departing Sydney to South Pacific
 Sail Away Sale – Half Price Deposits + $100 Onboard Credit per cabin
Are you a past passenger?  Past passenger benefits maybe available.  Please enquire for details.
Hurry, on sale until 03 April 2023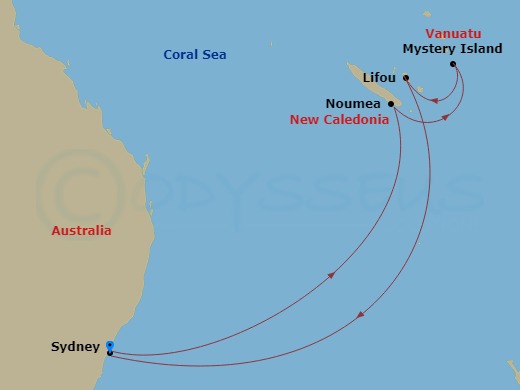 9 Nights | South Pacific | Carnival Cruise Lines: Carnival Splendor
Day 1:
SYDNEY, AUSTRALIA
Wed 18 Oct 2023 | Depart 4:00 PM
Day 2:
FUN DAY AT SEA
Thu 19 Oct 2023
Day 3:
FUN DAY AT SEA
Fri 20 Oct 2023
Day 4:
NOUMEA, NEW CALEDONIA
Sat 21 Oct 2023 | 8:00 AM To 5:00 PM
Day 5:
MYSTERY ISLAND, VANUATU
Sun 22 Oct 2023 | 8:00 AM To 5:00 PM
Day 6:
LIFOU, NEW CALEDONIA
Mon 23 Oct 2023 | 8:00 AM To 5:00 PM
Day 7:
FUN DAY AT SEA
Tue 24 Oct 2023
Day 8:
FUN DAY AT SEA
Wed 25 Oct 2023
Day 9:
FUN DAY AT SEA
Thu 26 Oct 2023
Day 10:
SYDNEY, AUSTRALIA
Fri 27 Oct 2023 | Arrive 6:30 AM
It's hard to tell which onboard space best represents Carnival Splendor — they all seem to hint at the amazing time you're going to have. El Morocco Lounge hosts comedy shows, musical performances, karaoke and more… and wears its 1930s namesake clearly on its nameplate. The words "Royal Flush Casino" incite visions of winning, while the onboard jazz club's moniker — The Cool — simply says it all without saying a word. And the Pinnacle Steakhouse can be found not only at the height of elegant dining, but at the apex of the ship. If you like your fun to flow, there are options aplenty. If you list "splish"and"splash"among your favorite terms, there's the Splash Park. Those into sitting and sliding are invited to try the signature Carnival Twister Waterslide. How about floating or swimming around? Carnival Splendor has pools all over the place, including the midship pool featuring a retractable roof that makes any day a pool day. So whether you splish or splash, you'll find hydro-excitement galore. If relaxation is more your thing, Serenity Adult-Only Retreat is more your place. Or if you're looking to take relaxation to the extreme, direct your attention to the Cloud 9 Spa, featuring more (and better) ways to kick back than just about anywhere else, on land or at sea. You haven't lived until you've relaxed in a Thalassotherapy pool, or chilled — so to speak — in a dry heat chamber.
SHIP HIGHLIGHTS
If relaxation is more your thing, Serenity Adult-Only Retreat™ is more your place
Take a quick break from the splashing and sun… and make creativity happen with onboard arts and crafts
How about a show, to go? The theater full of amazing musicals cruises along with you
Step into the island-inspired ambiance for Good Beer, good tunes and good times
Hope you packed your funny bone as ship's onboard comedy performances are designed to tickle just right
SHIP FACTS
February, 2019

Panama

113,300

116 ft

22 Knots

952 ft

3,734

1,150

13

14

Yes

Yes

5

Yes

14

Yes
**Fares are cruise only, per person, in AUD, in complete twin rooms as specified, in lead categories available at the time of publication, inclusive of all taxes/fees/port expenses (subject to change). Offer ends 03-04-23 unless sold out prior.~Half price deposits (non-refundable) are per person/twin for 2-3 days: $50, 4-5 days: $75, 6-9 days: $125, 10+ days: $200 Applicable to sailings outside of final payment due date. Pay the balance on final payment of the booking. ^Onboard Credit: applied to the first 2 people/room as: $25pp ($50/room) – 3-5 days; $50pp ($100/room) 6+ days. Not refundable, transferable, redeemable for cash. Offer is applicable on select departures from Australia through June 2025.Valid for new bookings only; not combinable with any other offer; subject to availability & capacity controlled. Offers are subject to change or withdrawal. Credit Card surcharges (Visa/MasterCard 1.5%; AMEX 2.75%) apply. To be read in conjunction with Carnival's Ticket Contract available here which passengers will be bound by. ©Carnival Cruise Line. Ships Registry: Panama & The Bahamas. Carnival plc t/as Carnival Cruise Line. ABN 23 107 998 443. Rate code QS5