Cunard's inaugural Great Australian Culinary Voyage is celebrating Australian food and wine.
Cunard's first dedicated culinary cruise onboard the luxurious Queen Elizabeth will highlight all aspects of Australia's unique produce, and will be joined by some of Australia's culinary royalty.
Setting sail on 28 January 2023, the inaugural Great Australian Culinary Voyage is a wonderful opportunity for you to indulge in your love of food and wine while enjoying a summer cruise on Queen Elizabeth to Tasmania.
The 5-night sailing departing Sydney via Melbourne and Burnie (Tasmania) highlights all aspects of Australia's unique culinary offerings and will be joined by some of Australia's culinary royalty. You will be able to taste exceptional dishes, learn about Indigenous ingredients, sample beautiful Australian drops and immerse yourself in unique local food experiences on bespoke shore excursions.
Some of Australia's most coveted chefs, wine makers and food critics will shine the spotlight on Australia's culinary uniqueness and diversity. And exclusive dishes created by talented Australian food icons will make this an unmissable experience for all food enthusiasts.
Ensure you book early to take advantage of this introductory offer and not miss out on this once-in-a-lifetime experience.

Australia's Culinary Voyage aboard Queen Elizabeth
28 JANUARY 2023 | 5 nights
Departs Sydney to Burnie via Melbourne (return)
Annual Savings Event promotion:
eSeaCruising fare from –  $1224pp (Twin Share)
Book now with only $122pp Deposit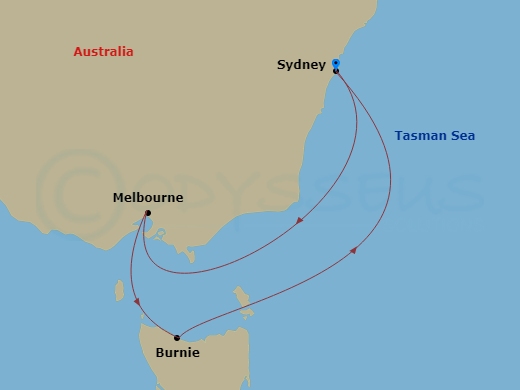 5 Nights | Australia | Cunard: Queen Elizabeth
Day 1:
Sydney NSW Australia
Sat 28 Jan 2023 | Depart 7:00 PM
Day 2:
At Sea
Sun 29 Jan 2023
Day 3:
Melbourne VIC Australia
Mon 30 Jan 2023 | 7:00 AM To 6:00 PM
Day 4:
Burnie TAS Australia
Tue 31 Jan 2023 | 7:00 AM To 6:00 PM
Day 5:
At Sea
Wed 1 Feb 2023
Day 6:
Sydney NSW Australia
Thu 2 Feb 2023 | Arrive 6:30 AM
The luxury ocean liner, Queen Elizabeth, or QE as she is affectionately known, arrived in October 2010 where she was named in a spectacular ceremony by Her Majesty The Queen. Recalling the rich heritage of the first Cunarder to bear the name, her elegance both echoes that legendary age and enhances her luxurious modern allure. She was inspired by Cunard's original Queen Elizabeth, which set sail in 1940, and is a worthy heiress to the title. From fine artworks, rich woods, and Art Deco touches to distinctive venues like the Garden Lounge, the three-tiered Royal Court Theatre and Yacht Club – this is a modern yet elegant vessel. Along with gourmet cuisine and white glove service the Queen Elizabeth offers a perfect blend of British heritage and modern comforts.  
Highlights:
The Grills restaurants offer the most exceptional food and service at sea and the grand Britannia Restaurant reflects the classic golden age of ocean travel.

The Verandah offers contemporary French cuisine that makes use of seasonal ingredients of exceptional provenance.

The Garden Lounge is designed to have the feel of a Kew Gardens conservatory. Perfect for enjoying an informal breakfast or a refreshing cocktail, the Lounge also shows live sports events.
'*Fares are cruise only, per person, in AUD/NZD, in complete twin accommodation, based on lead category staterooms as specified available at time of publication, inclusive of all discounts, taxes, fees, and port expenses (which are subject to change). Supplements apply for other stateroom categories. Fares based on specific departure dates only; higher fares may apply to other departure dates. Campaign commences 6 September and ends 30 November 2022, unless sold out prior. Cunard has set aside a reasonable number of staterooms which are available at these fares. Once this allocation is exhausted, fares may revert to a higher fare, but may also be discounted. Some Oceanview and Balcony staterooms may have an obstructed view. Valid for new bookings and not combinable with any other offer. All offers are subject to availability.
~Comparison launch fares and savings are based on Cunard fares launched into the market November 2020, March 2021 and February 2022 and May 2022. Savings vary by stateroom category and itinerary. Offer only available on select cruises – see cunard.com/oase for applicable sailings. Offer is only available on Cunard Fare types and excludes Club Balcony and Grill Suites.
Vaccination requirements may apply, and government guidelines may result in a requirement to quarantine during or after your cruise and may restrict your ability to participate in shore tours or disembark the ship at ports we visit during your cruise. See www.cunard.com/sailing-with-confidence for more information. Guidelines are subject to change without notice and as such, our actual cruise offerings may vary from the descriptions provided and images displayed. Cruise itineraries are not guaranteed.
Offer ends 30 November 2022, but may end earlier if sold out. Offer is not transferable, not redeemable for cash and may not be combinable with other select offers or other onboard credits. To be read in conjunction with the Terms and Conditions at cunard.com/en-au/legal which passengers will be bound by. A 1.5% surcharge for Visa and Mastercard and a 2% surcharge for AMEX applies. Whilst all information is correct at the time of publication, offers are subject to change. Please check with Cunard at the time of booking. Carnival plc trading as Cunard ABN 23 107 998 443.