HOT DEAL
Royal Caribbean – Serenade of the Seas
16 JANUARY 2022 | 8 nights
Departs Sydney to South Pacific
Savings the whole family can enjoy:
♦ 30% off every guest
♦ Up to $250 Savings
♦ Kids cruise from $25/day

Book by 01 June 2021
Twin from $1279pp 
Quad from $  841pp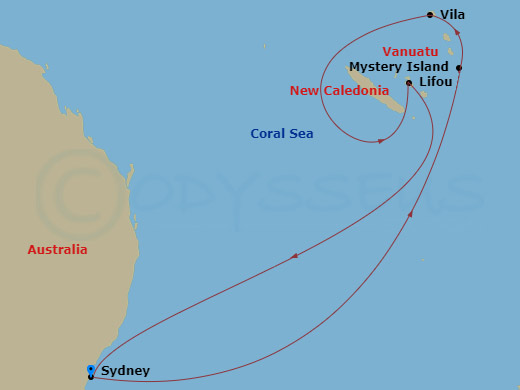 8 Nights | South Pacific | Royal Caribbean: Serenade of the Seas
Day 1: Sydney – Australia
Sun 16 Jan 2022 | Depart 4:30 PM
Day 2: Cruising
Mon 17 Jan 2022
Day 3: Cruising
Tue 18 Jan 2022
Day 4: Mystery Island – Vanuatu
Wed 19 Jan 2022 | 9:00 AM To 5:00 PM
Day 5: Vila – Vanuatu
Thu 20 Jan 2022 | 8:00 AM To 5:00 PM
Day 6: Lifou – Loyalty Island
Fri 21 Jan 2022 | 8:00 AM To 5:00 PM
Day 7: Cruising
Sat 22 Jan 2022
Day 8: Cruising
Sun 23 Jan 2022
Day 9: Sydney – Australia
Mon 24 Jan 2022 | Arrive 6:30 AM
There's only one word that can possibly sum up Quantum of the Seas®: WOW. Newly designed staterooms, game-changing technology, groundbreaking venues and the best dining ever are just the start of what you'll find onboard. By taking a quantum leap forward with the first ship in the Quantum class, Royal Caribbean is holding up to the promise of building ships that will take you to new heights.
Highlights:
Lounge the day away poolside beneath a retractable glass roof on Serenade of the Seas

Discover electrifying nightlife that keeps the thrills going long after sunset

Take in wild views from the top of the rock climbing wall

From piping hot pastas to fresh hand-tossed pizzas, you can tour all of Italy without ever leaving the ship

Take a breather in between deck-side delights at a cozy, quiet retreat Card Room
Up to 30% off
Booking Window: 12:01am (AEST) Tuesday, 4 May – 11:59pm (AEST) Tuesday, 1 June 2021
Sailing Window: All sailings departing on or after 12 June 2021
Offer details: Eligible bookings will receive a discount of up to 30% off the cruise fare* of the first and
second guest in the stateroom on all local sailings departing between 28 September 2021 – 15 April
2023.
Offer also provides up to 30% cruise fare savings for third and fourth guests in the stateroom on
International sailings departing on or after 12 June 2021.
*Taxes, fees, and port expenses are additional and apply to all guests.
Kids Sail from $25 per day
Booking Window: 12:01am (AEST) Tuesday, 4 May – 11:59pm (AEST) Tuesday, 1 June 2021
Sailing Window: local sailings departing between September 2021 and April 2023
Offer details: Third guest and above booked within the same stateroom as the first two qualifying guests
will pay only taxes and fees (from $25AUD/$25NZD per person per day) on local cruises departing
between September 2021 and April 2023. Taxes, fees, and port expenses are additional and apply to all
guests.
Kicker Sale
Booking Window: 12:01am (AEST) Tuesday, 4 May – 11:59pm (AEST) Tuesday, 1 June 2021
Sailing Window: Select International Sailings departing between 1 January – 30 September 2022
and local sailings departing between September 2021 and April 2023.
Offer details: Up to $250 instant savings per stateroom